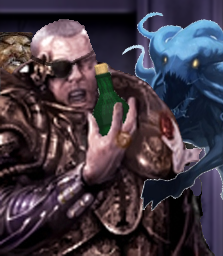 Welcome to the Fellowship of the Beard Wiki
Edit
A wiki page dedicated to our pen and paper group and it's pathfinder campaign.
Introduction to Season 2
Edit
"And so, the five adventurers stepped into the darkness and found themselves standing in front of the last door they'd ever need open. All that was heard in the corridor was the dim humming of magical weaponry, and their shallow breaths. One slowly reached for the handle, starting events that would ever change the world."
- Elhorn Gladomain, 'The Ending of an Era'
Latest activity
Edit
The return of Kyrde Brenkins, the total destruction of the Queen's Barn, more Rannvig and last but not least the hiring of Mandrake Rattlebottoms.
Like, does this javelin in my chest make me look fat?
Community content is available under
CC-BY-SA
unless otherwise noted.